Director of Communications,MajorityAction
Location:Flexible/Remote.Wework on an Eastern time zone schedule with some flexibility for non Eastern time zones.
Reports to: Executive Director
About MajorityAction:
MajorityAction is a 501(c)(3) nonprofit organization dedicated to empowering shareholders of all sizes to hold corporations and their leaders accountable to high standards of long-term value creation, corporate governance, and social responsibility.
Our campaigns expose harmful corporate governance and behavior, catalyze investor and public action, and confront the minority who make corporate abuses possible to defend the long-term financial, environmental, and social interests of the majority. We do this by weaving together investigative research, institutional investor engagement, strategic communications, and grassroots partnerships into integrated strategic campaigns.
While Majority Action is not a traditional membership-based organization; the team works in close partnership with grassroots organizations. We work together to develop strategies and execute tactics that support everyday people making their power felt in corporate boardrooms. Learn more atwww.majorityaction.us.
MajorityAction staff collectively believes that transformational change is possible, and that achieving such change requires tenacity, creativity, rigor, and collaboration. We strive to balance strategic pragmatism to advance campaigns with the courage to challenge ideas and systems that undermine sustainability, equity, and justice.
Our team values:
● Integrityin our relationships
● Asking hard questions, and adapting based on what we learn
● Excellencein our work
● Nimblenessand strategic flexibility in the face of challenge
● Deep, equitable, and mutually beneficial partnerships
● Working with awareness of and respect for our needs
Responsibilities:
● Reimagineways to fundamentally transform the conversation on corporate accountability
● Create measurable results by owning Majority Action's organizational communications strategy and execution across platforms, in partnership with their agency of record
● Develop clear and consistent messaging across platforms that reframes the debate and
creates the conditions for winning campaigns
● Foster a culture of storytelling by building strong, trusting relationships with teammates and movement partners
● Develop systems and guidelines that enable rapid response while protecting the
organization fromlegal and reputational risks
● Craft, edit, and proofread content to accurately reflect the voice and tone of the organization
● Build relationships to leverage the expertise of team members and strategic partners
to produce concise and effective content – including reports, op-eds, email blasts, press releases, and social media posts
The ideal candidate willhave:
● A track record of designing and launching strategic communications plans that achieve desired outcomes in a campaigning, labor, or nonprofit context
● Excellent storytelling and written communication skills, with the ability to distill
complex conceptsinto clear and explainable statements
● A background building multi-channel communications strategies that shift narratives among target audiences
● An entrepreneurial spirit and proactive approach to project management, with
experience buildingout frameworks, templates, and processes to codify and simplify work
● Hands-on experience developingand executing a brand or organization's tone of voice
and messaging strategy
● Exceptional attentionto detail, comfort with complexity, and intellectual curiosity
● A history of relationship building that is centered in integrity, collaboration, and equity
● Deep experience managing internal and external stakeholders effectively to execute in both rapid response and long-term campaign moments
● Clear alignment with our mission around corporate accountability and challenging
systemsthat undermine sustainability, racial equity, and inclusion
● A background pitching press and securing publication helpful, but not required
Salary:commensurate with experience up to $125,000. This is a full-time exempt position.
Benefitsinclude:
● 100% employer-covered health insurance, including dependent coverage
● Dental + vision insurance
● 401K Plan with 3% employer contribution
● LifeInsurance
● Short-term/Long-termDisability
● EmployeeAssistance Program(EAP)
● Professionaldevelopment
● Paid Time Off
● Paid Family Leave
● Technology stipend foryour home office
MajorityAction is committed to the inclusion of all individuals, so if there is any reasonable accommodation we can provide for you for interviewing or any other element of this hiring process, please let us know.
This is a full-time exempt position. Majority Action is an equal opportunity employer. Majority Action prohibits unlawful discrimination against any employee or applicant for employment based on race, color, religion, sex, gender identity, age, national origin, genetic characteristics, disability, status as a special disabled veteran or veteran, marital status, sexual orientation, sexual identity or any other basis prohibited by law.
---

Our Commitment to Diversity, Equity, Inclusion & Belonging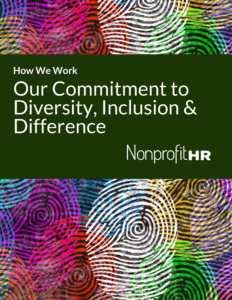 Nonprofit HR is committed to fostering and maintaining a work environment where diversity, equity, and inclusion (DEI) are fully integrated into everything we do for the benefit of our employees and the clients that we serve. To fully realize our goal, we prioritize our understanding of the complexities of DEI within our workforce to inform our approach to talent management. We believe that this guides how we do our work, advise our clients to operationalize DEI and position our content and educational opportunities help strengthen the talent management capacity of the social impact sector.
Continue reading our about our commitment atnonprofithr.com/deinow.